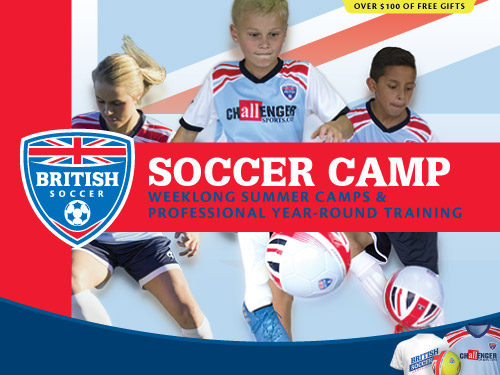 British Soccer Camp
The British Soccer 1,000 touches coaching syllabus provides an innovative daily regimen of foot skills, moves, juggling, tactical practises and daily tournament play. Additionally Challenger uses soccer to help introduce campers to the concepts of Respect, Responsibility, Integrity, Leadership and Sportsmanship.
The highlight of the week is the Camp World Cup, bringing both friendly competition and cultural variety to each day. The daily tournament gives campers the chance to represent a world cup team, with extra points being awarded for them making up chants, wearing the team colors of their chosen country, creating flags, and learning as much as they can about their chosen countries culture.
GK/Striker camp - June 26-30th
British soccer skills camp - July 17-21st
To Sign Up:
https://challenger.configio.com/ShoppingCart.aspx?com=orglandingpage&org=2135
We are always looking for amazing host families to host our coaches for the week of camp! If interested please email jkent@challengersports.com for more information and to claim an $80 rebate on camp fees.